In America - Travels with John Steinbeck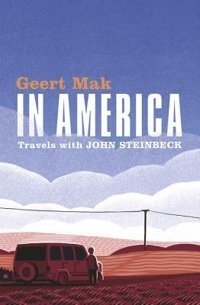 In 1960 John Steinbeck and his dog Charley set out in their green GMC pickup truck to rediscover the soul of America, visiting small towns and cities from New York to New Orleans. The truck was named Rocinante after Don Quixote's horse, and Steinbeck was Cervantes' foolhardy knight. America was looking to the future, full of optimism and desperate to leave behind the troubles of past; Steinbeck, great chronicler of the ordinary working man, was starting to feel out of touch. As he said to a friend: 'I must see how the country looks and smells and sounds.' The trip became Travels With Charley, one of his best-loved books.

Half a century on, Geert Mak sets off from Steinbeck's home in his own Rocinante, with his wife and his sat-nav Sandy. Mile after mile, as he retraces Steinbeck's footsteps through the potato fields of Maine to the endless prairies of the Midwest, sits down to eat with farmers, workers, fisherman and teachers, stumbles across glistening suburbs and boarded-up stores, he searches for the roots of America and what remains of the restless, prosperous world Steinbeck describes.

Part biography, part cultural history, In America asks how America has changed in the last 50 years; what's happened to Main Street, USA, and the American dream; and what do we, Europe and America, still have in common in the twenty-first century?
For more information, read here.